Letters to a Christian Nation – Part 1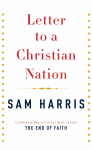 In a recent interview, Sir Elton John said that, if it were up to him, he would "ban religion completely." He fortified his judgment with various moral charges, such as religion's supposed lack of compassion and hatred of homosexuals.
What if Sir Elton had his wish? What would it mean? First, atheism (Sir Elton's religion) would become the world's de facto religion. Then the ban would have to be enforced. Should non-atheists simply be put in prison, or should they be put to death? (How tolerant and compassionate.)
This is typical atheist thinking. It never occurs to Sir Elton to argue for his worldview. Instead, he'd rather convert by the edge of the sword (sound familiar?)—indeed, throwing rocks and name calling is a common atheist practice.
Meanwhile, back on planet earth . . . By what moral standard does he judge "religion"? Are his own whims the standard? Why ought we care what he thinks? Why should we accept that his words carry moral weight?
Moral Foundation
This brings me to Mr. Harris' book. It's basically a longer version of Sir Elton's tirade. Because of time constraints, I've only been able to get through about a third of the book. But page-after-page it's the same: no arguments; just the author's complaints, and evidences of his sharp tongue. He does, however, provide us with his principle of ethics:
Questions of morality are questions about happiness and suffering . . . To the degree that our actions can affect the experience of other creatures positively or negatively, questions of morality apply. (pg. 8)
Utilitarianism
What Mr. Harris is describing is called Utilitarianism. Philosophy Pages provides this nifty definition:
Normative theory that human conduct is right or wrong because of its tendency to produce favorable or unfavorable consequences for the people who are affected by it. The hedonistic utilitarianism of Bentham, Mill, and Sidgwick maintains that all moral judgments can be derived from the greatest happiness principle.
From what I've read so far, Mr. Harris desires to put God in the dock. He has all kinds of moral complaints againt God—in his view, God doesn't live up to his, Mr. Harris', Utilitarianism; the suppossed consequent of God's "failing" is non-existance. His argument is basically this:
If God exists, he'll live-up to my Utilitarianism.
God does not live-up to my Utilitarianism.
Therefore, God does not exist.
Strange way for the clay to argue against the potter's existance.
A House Needs a Foundation
The major premise is obviously the problem, thus killing the argument: Why should God, or us for that matter, give any credence to Mr. Harris' Utilitarianism? Asserting Utilitarianism does not prove Utilitarianism. Because Mr. Harris does not provide a foundation for his moral claims, we have no reason to take his claims seriously, nor give his charges against God any attention—and God certainly has no reason to bow to Mr. Harris' stipulated morality.
Nevertheless, I'll press-on through Mr. Harris' book, taking you along for the ride, with the earnest hope that I'll stumble upon a real argument. So stay tuned for part 2!
One More Thing
Michael Medved has a great commentary on Sir Elton's comments titled, The "tolerant" Sir Elton wants to ban religion. In the commentary, Mr. Medved makes this insightful statement: "A point of view confident of its own arguments wouldn't make the case for 'bans' or 'suppression.'"
Labels: Apologetics